Are you seeking for figuring out how to open a RAR file on your Android phone? Moreover, Android devices do not have a default way of opening RAR files, so you need additional app for it.
Here are the steps in which we will let you know how to open the RAR file on Android:
Open the Play Store: It's a white suitcase icon with a colorful triangle. You will find it on your home screen or in the app drawer.
Search for RAR: Enter into the search bar at the top of the display, then have a click on the Enter or Search key on your keyboard. A list of results will appear on the display.
Choose the app called RAR. Some of the popular apps are ZArchiver, B1 Archiver zip RAR unzip, Easy UnRAR, Unzip & Zip, RAR, WinZip – Zip UnZip Tool
Install: Click on Install Option. A pop-up will appear.
Accept Option: Permits RAR to access files on your Android. The app needs access so that it can unpack your RAR files. Now install the app into your device.
When the installation completes, the INSTALL button changes to the OPEN button
Open RAR. If you are still in the Play Store, you can do this by clicking on the OPEN button. Moreover, click on the RAR icon i.e. stack of books in the app drawer or on your home screen. A list of files will appear on the display.
Choose your RAR file. Now you will see a list of all of the files packed within the RAR files.
If you just want to see or use one file quickly, then have a click to open it. If you want to move the files from the RAR to any other folder, then move to the next step.
Choose the files you want to extract. Click on the box next to the file name to add a checkmark. All files with checkmarks next to their name will be extracted to your Android.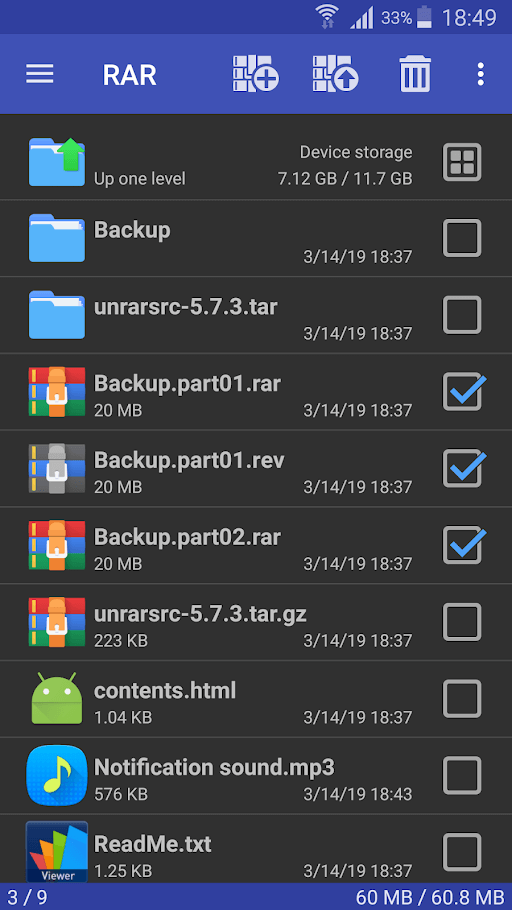 Hit the up-arrow icon. It's to the left of the garbage and can be at the top of the screen.
Follow the prompts to extract your files. Once the files are extracted, you can access them using your Android's file manager or any app that can access those types of files.
Choose the best one!!
They are many ways on how to Open RAR Files. You can use software such as WinRar, 7Zip, or any other unzipping software. You can also use an online zip file opener. So which one you prefer, choose that only and get stuck to it and keep unzipping for Zipping or RAR file.